It was my first charter of the season, back after the winter off, and my favorite client and her friend and I were celebrating boating a 247-pound Broadbill Swordfish as the first fish of the season on my new charter vessel. Fast forward seven months, and Cathy and I landed in a helicopter on a remote island nearly 100 miles from the resort island we were calling home for the next eight days…or so I thought.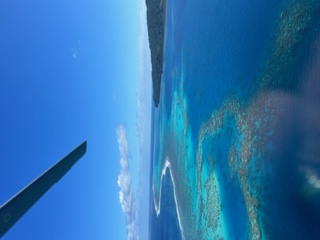 In just an hour and a half from landing in the capital of Fiji, we were trolling a seven-rod spread for wahoo in the land of giants. Our crew, Captain Kaiser, First Mate Rambo, and guide Jaga, were all geared up for seven days aboard a 63' Hatteras, on what would quickly become the trip any avid fisherman and adventurer would dream of..
The atolls of Fiji are comprised of 33 islands, many of which are completely untouched by the angling community. Fijians have a practiced agreement with selective charters that any fish caught be transferred to the native villages, minus what we ate for lunch and dinner each day on board the boat. The sharp color contrast of the reef surrounding the islands plays host to dozens of reef, pelagic, and deep drop species. The depths from the breakers rapidly drop off to thousands of feet within a few miles of land. According to our guide Jaga, the island waters we were tackling had not been fished by modern vessels in over a month. This quickly proved to us that we were about to tackle a target-rich environment.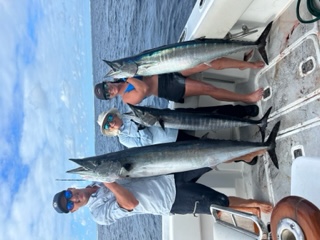 August in Fiji is late Spring. The seas much of the trip were pushing six to eight feet depending on which side of the island we were fishing. This did not stop us from boating our first wahoo fifteen minutes into our journey. In the states, a sixty-pound wahoo is considered a trophy, but here, the electric stripes of these bubble torpedoes averaged over eighty pounds a fish. The fast buzz of screaming drag on a wahoo is unmistakable, but we were like a crew of giddy teenagers when each fish boated was bigger than the last. The pinnacle of day one was witnessing a wahoo bigger than Cathy and me. This excitement was quickly transported to shock, when the fish shook its toothy head just behind the boat, breaking the hook off our Nomad lure just two feet outside of gaf range. The image of this zebra fish with a girth bigger than my own waist will forever be burned into my brain. We estimated it to be around 120 pounds.
Evening one we dropped anchor, and the friendliest humans I've encountered in my 39 years putted up behind our boat and loaded up five wahoo, and three yellowfin tuna back to their village via a 20' Panga with a 25 horsepower outboard. While many visit Fiji for romance, exotic views and relaxation, Cathy and I came for the fish. Fiji hosts a variety of styles of fishing, from trolling for wahoo, marlin, and tuna, to topwater casting for Giant Trevally, Coral Grouper, and trout, to deep dropping in over a thousand feet of water for the caviar of the sea…Ruby Snapper, grouper, and the Pacific Ocean's famous Dogtooth Tuna. We tackled all of them. Each morning after fresh fruit and coffee we headed out around six for a full day of fishing. Another few healthy Wahoo transitioned us to deep dropping. Two Miya Epoch electric reels spooled with 175-pound spectra were set up for some of the most exotic fish I have ever seen. A five-hook chicken rig loaded with fresh barracuda chunks tapped bottom in a thousand feet of water. The location of our first deep drop mission was only three miles off the reef. We were bit the moment the baits hit bottom. The first species, the Ruby Snapper, resembled the goldfish we all had as children, but on steroids. Twenty to forty-pound crimson beauties came up two at a time. The Flame Tail Snapper next closely resembled an American Queen Snapper, but with a tail that looked like a high school twirler's tool… foot-long tassels decorating their tails. At times seas were so rough in the cross current that we could hear kitchenware crashing in the saloon. Rambo would sit behind Cathy, to ensure her tiny frame wouldn't topple overboard. I hooked many small fish until a Silky shark then ambushed my catch.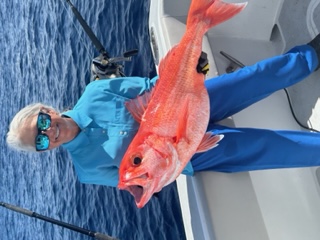 Let me interject for a moment, and tell you about Cathy. She is one of the fiercest anglers I have ever met. At 5'1" and a slight frame, her fishing resume boasts dozens of fish much larger than her. When we fish, I expect to be out-fished on large fish. Some people just have what I call Big Fish Energy. This was quickly exercised on the next catch! As her rod bent on what looked like a solid snapper, it then doubled its bend and the line began peeling off the reel. After my Silky shark, I assumed her catch was also eaten. I was wrong. Thirty minutes later what looked like a submarine bubbled to the surface. A forty-pound Ruby Snapper on one hook was immediately overshadowed by the largest Eight Bar Cod the crew, and any islander had ever seen. A fish that resembled the size of a miniature pony floated up, pushing close to 300 pounds! The excitement was uncontainable. The mouth on this fish was easily large enough for me to crawl into. It was the largest bottom dweller reef species I had ever seen. A few hours later we were out of refrigerated box space, boating more bar cod, large spotted Malabar Grouper, and more large Rubies. The villagers were in for the surprise of a lifetime that evening. But the best experience for me that day was yet to come…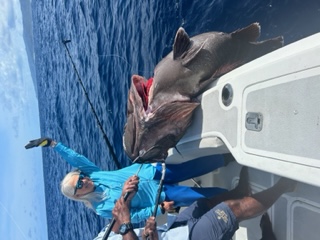 Cathy boated another large grouper, and out of the corner of my eye, I noticed something very large approaching the boat. A juvenile Whale Shark was lazily swimming to the corner stern as if he wanted to have a private conversation with us. It carried no fish with it but seemed attracted to the water pushing out of the boat. The whale shark spent more than ten minutes hanging with our boat, giving me enough time to grab a mask and snorkel, enter the water, and swim with the gentle giant I have been waiting my lifetime to see. Not only was it calm, but it allowed me to touch it and even hitch a brief ride. Cloud nine does not describe the level of elation I carried with me the rest of the day. The Whale Shark is a gentle filter-feeding creature that I have been eagerly hoping to see in the Gulf of Mexico. His wide head was covered with vibrant spots and his skin felt like fine grain sandpaper. It was completely unbothered by me floating above. No fish for the rest of the day mattered to me at this moment, but we were not finished catching giants that day,
There is a mackerel, or "Mackie" as they are locally referred to in Fiji, that closely resembles a King Mackerel in the States. Also known as "Walu", these toothy torpedoes do differ from a king in body girth, but more importantly in taste. The body of water that sat before the bay we anchored in was a perfect location to target Walu due to a firm current and ample bait from the nearby reef. Fishing one rod with a large dead Scad for bait, another rod kept the bait down with a ten-pound downrigger setup. A Walu characteristically will slam the bait hard and fast, often stealing it completely. Once hooked, they take a lightning-fast run, then quickly turn and swim back. This means the angler must reel as fast as possible. I landed an average-sized fish, but Cathy caught a dinosaur. When the entire crew took pictures and gushed over her catch, I again knew it was one of the largest they had ever boated, estimated at around 70-80 pounds. The Walu proved to be excellent table fare, unlike its greasy, grey-meat American cousin. Broccolini, new potatoes, and fresh mackerel that evening would challenge any fine dining establishment.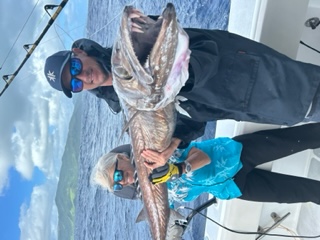 While the brunt of our time in Fiji was spent bobbing on the waves, we did sneak in some local culture that evening. That night, two boats arrived at our transom; one for the fish, the other for Jaga, Cathy, and myself. We putted to land in the dark, and the memory of big Ben, a large and lovable Fijian, carrying Cathy on his back as if she weighed no more than a sack of rice, will forever make me laugh. We entered a home with about ten Fijians sitting on the floor. In Fiji, locals eat and sleep on the floor…and on the floor is where we were introduced to Kava. We sat in a circle as our guide Jaga went over paperwork with the locals, assuring them our time and catches from their waters were legal. As we waited, one man was squeezing a rag, dripping out what looked like watery chocolate milk. A coconut shell was dipped into the substance and passed around for all to sip. Kava is a native drink procured from the roots of local pepper plants. It is non-alcoholic but does make your tongue and lips tingle. Fijians will tell you that you will sleep like a baby if you try it.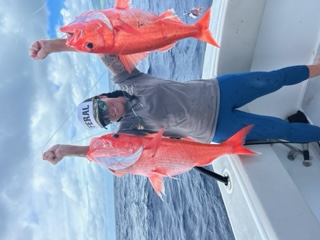 The next day produced more deep water exotics, including large Ruby Snapper, Flame tails, and even the nightmarish-looking Snake Mackerel with teeth that make a Barracuda look like child's play. At times the boat needed to be positioned in a way that caused us to take a few waves over the side. Again, Rambo, who is built like an elite rugby player, stood careful watch assuring nobody went overboard. Late August can be very windy, but the sun shone every day and the middle 70's air temperature was wonderful. Later in the day, we trolled for more Wahoo and again landed two of the biggest yet, pushing close to one hundred pounds.
On day four we switched gears, focusing much of our day challenging our tired muscles with jigging and casting techniques near the reef. We did encounter more sharks and barracuda, but more unique species like Coral Trout and yellow Spotted Trevally added to our rapidly growing list. Perhaps the most physical form of fishing to do in Fiji is slinging poppers into the breakers for Giant Trevally. Watching Jaga cast again and again proved it is indeed an athletic art form. He hooked the only GTs we battled at the reef, but my biggest GT fight was coming later that evening. "Are you ready for a pre-dinner workout?" asked Jaga. The underwater lights had been turned on, and small bait fish were quickly swarming our transom. A few minutes later a massive shadow was sighted cruising behind the boat. Jaga said it put the "giant" in Giant Trevally. We threw poppers to fire him up and then dropped a jig. Jaga hooked the beast and handed me the rod. After a 15-minute fight, and two laps around the 63' boat I eventually boated the 90-pound GT. The fight reminded me of a large Amberjack, digging hard towards the reef. He eventually wore out and we took photos before releasing him. I ate extra supper that evening.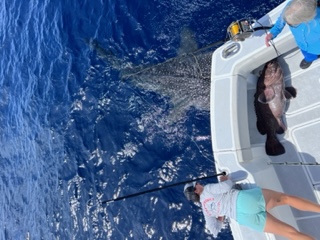 We had one more morning of fishing before cruising the 90 miles back to Kokomo Island. We bottom-fished again and produced some fish to bring back to the chefs at the resort. At this point, Cathy and I were both properly exhausted. The journey back was a pleasant following sea, and halfway through our journey, we spotted a large Humpback Whale, traveling with her baby. The baby playfully did backflips while we slowly followed them. It was the sight of a National Geographic paradise in electric blue water. The entire crew was in a fantastic mood! More surprises awaited us as ten miles from the island the boat experienced fuel problems. This forced us to travel on one motor for the remainder of our ride to land. Naturally, we decided that was a good speed to put out a few troll baits. Why not? A few minutes later a rod took off and we heard "Blue Marlin!" from the saloon. I raced outside and as tired as I was quickly suited up in a Black Magic standup harness to fight my first blue. I was grateful it was a small fish as my tired muscles wrangled him to the boat in about thirty minutes. He stayed deep the entire fight until boat side, where he thrashed madly, finally realizing he was hooked. A clean release and a Fiji Gold beer later, we were almost home for a day of rest.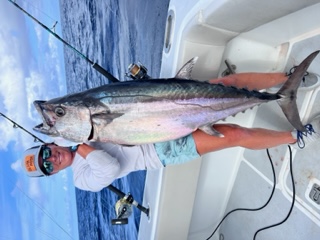 After a few spectacular meals and much-needed massages, we departed Thursday morning for two more days of strictly targeting large Dogtooth Tuna. We fished the closer island, and after a slow morning, spent much of mid-day trolling for bait. Foot-long Scad are double rigged on wire with two J hooks and a trailer treble hook. They are notorious for dive bombing into the reef and rocks when they bite, and the biggest challenge is getting them suspended before they rip off. After a few hours of trolling, we had a box full of Dogtooth candy. Yet again, more surprises were on our horizon. While we trolled two bait rods we put two larger troll baits out, one of which was a treble hook Rapala lure, typically good for smaller fish to attack. Suddenly we saw a massive splash, and a giant bill attacking the Rapala. "Wow, a Black Marlin! I haven't hooked one of those in a few years!" shouted Jaga. Black Marlin tends to dwarf Blue Marlin, and this one he estimated around 600 pounds. The only place in the United States where one can find a Black is in Hawaii, as they mainly navigate warm Pacific waters. I was in pure shock watching the massive body swat at the bait. He was gone as quick as he came, never once taking line off the reel. When we retrieved our bait, we could see it had been in the fish's mouth, but we didn't stand a chance with it on the setup it bit. The amount of life we saw that day was incredible. In addition to our Marlin visit, we spotted another humpback whale swimming with a baby!
Dogtooth tuna are cyclical eaters and tend to be most hungry at dawn and dusk. That evening again presented us with large seas and a strong current, making it difficult even with a ten-pound downrigger keeping our baits suspended. We grinded away, going through baits with close calls and even a breakoff on 100-pound line. We fished hard and caught a few smaller Dogtooth on jigs, but the large fish were proving evasive and we came up empty-handed as we settled in for the evening.
We fished one last morning for large dogtooth but did not wind up finding the bite we were looking for. In the process, we landed several large Giant Trevally, but the adventure ended without a triple-digit Dogtooth. Nobody was leaving disappointed, and I estimate we caught around thirty species of fish while on our adventure.
It was a bittersweet moment preparing to leave the island. After a wonderful birthday lunch for Cathy, enjoyed with Jaga and his family, we packed our bags. Kokomo Island and its' employees lined up upon our departure, serenading us with local songs to say Goodbye. We boarded a seaplane and enjoyed a scenic flight back to the capital of Nandi. After an 11-hour direct flight, we landed in Los Angeles. I am filled with gratitude and fond memories of Fiji that will last a lifetime and hope to one day return to the land of giants. If you ever get the chance to visit such a magical place, take as many photos as possible. You will not regret it. The kindness of the Fijian people and our fishing crew and their families was first class, and I will consider them friends for life.